Posts for: June, 2020
By Bruce P. Mercado, DDS, PC
June 20, 2020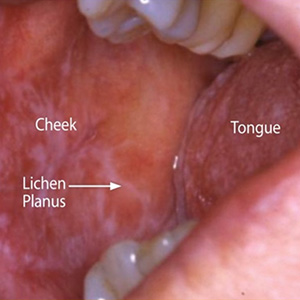 Looking in the mirror, you probably focus on your teeth and gums—i.e., your smile. Your dentist, though, will take the time to look deeper into your mouth, searching for anything out of the ordinary. That could be a type of mouth sore known as lichen planus.
Lichen planus are lesions that can appear on skin or mucus membranes, including inside the mouth. The name comes from their resemblance to lichens, a fungus found on trees or rocks (although the sore itself isn't fungi). As such, they often have a lacy pattern of lines emanating from purplish bumps.
Again, the first indication you have such a condition may come from your dentist. Sometimes, though, you may notice greater sensitivity to spicy or acidic foods and, if the gums are affected, irritation when you eat or brush.
If you find out you have lichen planus, don't be alarmed—it usually doesn't pose harm to your health and it's not contagious. Its appearance, though, could be mimicked by more harmful medical conditions, so your dentist will want to confirm the lesion observed is truly lichen planus.
It's routine, then, for your dentist to excise a small sample of the sore's tissue and send it to a pathology lab for biopsy. Although results will more than likely confirm lichen planus or some other benign lesion, it's better to err on the side of caution and ensure you're not dealing with something more serious.
If you are diagnosed with lichen planus, you may need to take steps to manage symptoms. In most people, the sore will go away on its own, although there's no guarantee it won't reappear sometime later. In the event it lingers, your dentist may prescribe a topical steroid to help ease any discomfort.
You can also minimize a future outbreak by practicing effective daily oral hygiene to reduce the bacterial populations that may contribute to the condition. And when you're symptomatic, try avoiding spicy or acidic foods like citrus, peppers or caffeinated beverages.
Lichen planus is more bothersome than harmful. Taking the above steps can help you avoid it or deal with it more effectively when it occurs.
If you would like more information on lichen planus, please contact us or schedule an appointment for a consultation. You can also learn more about this topic by reading the Dear Doctor magazine article "Lichen Planus: Mouth Lesions That are Usually benign."
By Bruce P. Mercado, DDS, PC
June 10, 2020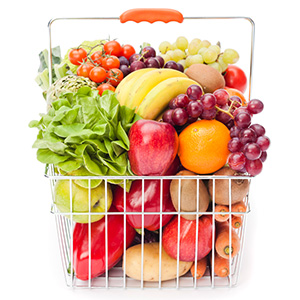 Oral cancer is one of the more dangerous malignancies people face. But there are ways you can reduce your risk of this deadly disease through changes in lifestyle habits and behaviors.
Two of the better known behaviors for increased oral cancer risk are immoderate consumption of alcohol and the use of tobacco, particularly chewing tobacco and snuff. Eliminating these, especially the latter, can vastly improve your odds of avoiding cancer. Another factor is a strain of the human papilloma virus (HPV 16) that's transmitted sexually, which you can avoid through safe sex practices.
In addition to these lifestyle changes, there's one more you should make to lower your oral cancer risk: adjustments to your diet. Research over the last half century has provided ample evidence of a link between the foods we eat and our risk of all types of cancers, including oral.
The biggest concern is over certain elements in some foods that can damage DNA, the molecular "operating instructions" that regulate the formation and function of our bodies' cells. These elements are collectively known as carcinogens because of their role in cancer formation.
An example of a carcinogen is a group of chemicals called nitrosamines. These form during preservation processes using nitrites in meats like bacon or ham. They're also found in beer or certain preserved fish. To limit your consumption of nitrosamines, you should reduce these and other processed products and replace them with fresh fruits and vegetables, or organic meats and dairy products.
Our DNA can also be damaged by unstable molecules called free radicals that arise during normal cellular function. But there are also substances known as antioxidants that help protect the cells from free radical damage. Many plant-based foods contain nutrients like vitamins C and E that have antioxidant properties, so including them in your diet could help reduce your oral cancer risk.
Several clinical studies over the years have been consistent in their findings that a diet rich in fresh fruits and vegetables can reduce the risk of oral or throat cancers, as well as other forms of cancer. Making changes to your diet in that direction, plus other lifestyle changes, could help you avoid this devastating oral disease.
If you would like more information on preventing oral cancer, please contact us or schedule an appointment for a consultation. You can also learn more about this topic by reading the Dear Doctor magazine article "Diet and Prevention of Oral Cancer."