Posts for: December, 2017
By Bruce P. Mercado, DDS, PC
December 20, 2017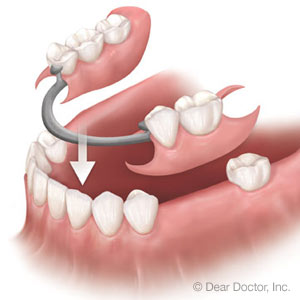 Modern dentistry offers several great ways to permanently replace missing teeth, including high-tech dental implants and traditional fixed bridgework. But sometimes, for one reason or another, it isn't possible to have these treatments done right away. If you need an aesthetic way to temporarily replace missing teeth, a flexible partial denture could be the answer you're looking for.
Certain kinds of removable partial dentures (RPDs) can be used as permanent tooth replacement systems, especially for people who aren't candidates for dental implants or fixed bridges. But in the past, if you needed a temporary tooth replacement, one of the few alternatives was the type of rigid RPD often called a "flipper." This consists of a firm, relatively thick acrylic base that supports one or more lifelike replacement teeth. It attaches to the "necks" of existing natural teeth via metal clasps, which gives it stability and strength.
However, the same rigidity and thickness that gives these rigid RPDs their durability can make them uncomfortable to wear, while the acrylic material they are made of is capable of staining or breaking. Over time, the RPDs are prone to coming loose — and they are also easy to flip in and out with the tongue, which gives them their nickname.
Flexible partial dentures, by contrast, are made of pliable polyamides (nylon-like plastics) that are thin, light and resistant to breakage. Instead of using metal wires to attach to the teeth, flexible RPDs are held securely in place by thin projections of their gum-colored bases, which fit tightly into the natural contours of the gumline. Their elasticity and light weight can make them more comfortable to wear. Plus, besides offering aesthetic replacements for missing teeth, their natural-looking bases can cover areas where gums have receded — making existing teeth look better as well.
All RPDs must be removed regularly for thorough cleaning — but it's especially important for flexible RPD wearers to practice excellent oral hygiene. That's because the projections that hold them in place can also trap food particles and bacteria, which can cause decay. And, like most dentures, RPDs should never be worn overnight. Yet with proper care, flexible RPDs offer an inexpensive and aesthetic way to temporarily replace missing teeth.
If you have questions about removable partial dentures, please contact us or schedule an appointment for a consultation.
By Bruce P. Mercado, DDS, PC
December 05, 2017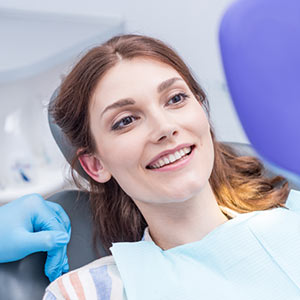 The holidays are a season for giving. At this time of year, lots of us spend hours rushing around, looking for the perfect gifts for people we care about. But sometimes, amidst all the hustle and bustle, it doesn't hurt to step back and think about yourself a little. If a better-looking smile has been on your list but you haven't taken the first steps, the holiday season might be the right time to give yourself a gift.
Many smile problems, like discolored, chipped or uneven teeth, can be resolved with veneers—wafer-thin porcelain shells that cover the front surfaces of teeth. Veneers are custom-made just for you: They can have a pearly luster to match your existing teeth, or be Hollywood-white for a dazzling red-carpet smile. In just a few visits to the dental office, you can have the smile you've always wanted—and a whole new look for the New Year.
If damaged or missing teeth are what's bothering you, you'll be happy to know that there are lots of good options for replacing them. If the tooth's roots are still in good shape, a crown or cap could be the answer. This is a sturdy replacement for the entire visible part of the tooth that not only looks great, but also functions well in your bite—and can last for years to come.
If teeth are missing or can't be saved, we offer several options for replacement, including fixed (non-removable) bridgework and dental implants. A tried-and-true method for replacing one or more missing teeth, bridges are firmly supported by healthy teeth next to the gap in your smile. These teeth must be prepared to receive the bridge by having some of the tooth's surface removed.
Dental implants are today's premier option for tooth replacement. In this high-tech system, a root-like titanium insert, placed directly into the bone beneath the gum, forms a solid anchorage for the visible part of the replacement tooth. Implants look and feel completely natural, and can last for many years. Plus, they don't require any work to be done on nearby teeth.
What kind of smile makeover is right for you? Just ask us! We will be happy to take a look at your smile and recommend a treatment plan. And in this season of generosity, there's no better gift you can give yourself than a bright new smile.
You can learn more about smile makeovers by reading the Dear Doctor magazine article "Beautiful Smiles by Design."