Posts for: February, 2016
By Bruce P. Mercado, DDS, PC
February 25, 2016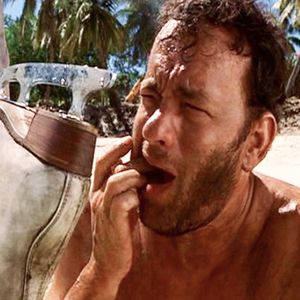 Did you see the move Cast Away starring Tom Hanks? If so, you probably remember the scene where Hanks, stranded on a remote island, knocks out his own abscessed tooth — with an ice skate, no less — to stop the pain. Recently, Dear Doctor TV interviewed Gary Archer, the dental technician who created that special effect and many others.
"They wanted to have an abscess above the tooth with all sorts of gunk and pus and stuff coming out of it," Archer explained. "I met with Tom and I took impressions [of his mouth] and we came up with this wonderful little piece. It just slipped over his own natural teeth." The actor could flick it out with his lower tooth when the time was right during the scene. It ended up looking so real that, as Archer said, "it was not for the easily squeamish!"
That's for sure. But neither is a real abscess, which is an infection that becomes sealed off beneath the gum line. An abscess may result from a trapped piece of food, uncontrolled periodontal (gum) disease, or even an infection deep inside a tooth that has spread to adjacent periodontal tissues. In any case, the condition can cause intense pain due to the pressure that builds up in the pus-filled sac. Prompt treatment is required to relieve the pain, keep the infection from spreading to other areas of the face (or even elsewhere in the body), and prevent tooth loss.
Treatment involves draining the abscess, which usually stops the pain immediately, and then controlling the infection and removing its cause. This may require antibiotics and any of several in-office dental procedures, including gum surgery, a root canal, or a tooth extraction. But if you do have a tooth that can't be saved, we promise we won't remove it with an ice skate!
The best way to prevent an abscess from forming in the first place is to practice conscientious oral hygiene. By brushing your teeth twice each day for two minutes, and flossing at least once a day, you will go a long way towards keeping harmful oral bacteria from thriving in your mouth.
If you have any questions about gum disease or abscesses, please contact us or schedule an appointment for a consultation. You can learn more by reading the Dear Doctor magazine articles "Periodontal (Gum) Abscesses" and "Confusing Tooth Pain."
By Bruce P. Mercado, DDS, PC
February 10, 2016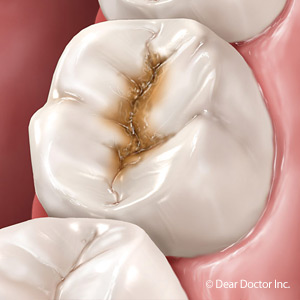 Other than the common cold, tooth decay is the most prevalent disease in the world. And while a cavity or two may seem like a minor matter, tooth decay's full destructive potential is anything but trivial. Without proper prevention and treatment, tooth decay can cause pain, tooth loss and, in rare cases, even death.
This common disease begins with bacteria in the mouth. Though these microscopic organisms' presence is completely normal and at times beneficial, certain strains cause problems: they consume left over carbohydrates in the mouth like sugar and produce acid as a byproduct. The higher the levels of bacteria the higher the amount of acid, which disrupts the mouth's normal neutral pH.
This is a problem because acid is the primary enemy of enamel, the teeth's hard protective outer shell. Acid causes enamel to lose its mineral content (de-mineralization), eventually producing cavities. Saliva neutralizes acid that arises normally after we eat, but if the levels are too high for too long this process can be overwhelmed. The longer the enamel is exposed to acid, the more it softens and dissolves.
While tooth decay is a global epidemic, dental advances of the last century have made it highly preventable. The foundation for prevention is fluoride in toothpaste and effective oral hygiene — daily brushing and flossing to removing plaque, a thin film of food remnant on teeth that's a feeding ground for bacteria, along with regular dental visits for more thorough cleaning and examination. This regular regimen should begin in infancy when teeth first appear in the mouth. For children especially, further prevention measures in the form of sealants or topical fluoride applications performed in the dentist office can provide added protection for those at higher risk.
You can also help your preventive measures by limiting sugar or other carbohydrates in your family's diet, and eating more fresh vegetables, fruit and dairy products, especially as snacks. Doing so reduces food sources for bacteria, which will lower their multiplication and subsequently the amount of acid produced.
In this day and age, tooth decay isn't a given. Keeping it at bay, though, requires a personal commitment to effective hygiene, lifestyle choices and regular dental care. Doing these things will help ensure you and your family's teeth remain free from this all too common disease.
If you would like more information on preventing and treating tooth decay, please contact us or schedule an appointment for a consultation. You can also learn more about this topic by reading the Dear Doctor magazine article "Tooth Decay."