Posts for: February, 2014
By Bruce P. Mercado, DDS, PC
February 21, 2014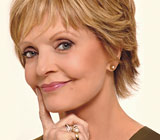 Florence Henderson, star of one of television's most beloved situation comedies, is still actively engaged in a variety of projects at 75-plus years of age. Her bright smile was part of her character as Carol Brady in The Brady Bunch, a popular sitcom that played for five seasons from 1969 to 1974. Though the show was discontinued, syndicated episodes continue to play in the U.S. and 122 other countries.
"I played Carol as the mother I always wished I had," she told Dear Doctor magazine. Her portrayal of mother and wife in a blended family with six children won her the Smithsonian Institution's TV Land Pop Culture Icon Award, which is on display in the National Museum of American History in Washington, DC.
After her successes on Broadway and in television, she was selected for numerous product endorsements, and The Wall Street Journal ranked her #5 in their top ten television endorsers based on viewer satisfaction. One of the products she endorsed was Polident, a brand of denture cleaners and adhesives. However, Henderson has revealed that she has her own natural teeth and does not wear dentures. Her advice to others who want to keep their natural teeth is to pay attention to prevention. "I think the most important thing one can do as with any health issue is prevention," she said. "Flossing, brushing, and regular dental checkups are vitally important if you want to keep your natural teeth."
When she was 22, she says, she had four impacted wisdom teeth removed at the same time. This experience made her aware of the importance of dental care, and since then she has had a checkup every six months. Wherever she travels, she says that she always has mouthwash, dental floss, toothpaste, and a toothbrush on the set.
Contact us today to schedule an appointment to discuss your questions about tooth care. You can learn more about Florence Henderson by reading the Dear Doctor magazine interview "Florence Henderson, America's Favorite TV Mom Has Many Reasons to Smile."
By Bruce P. Mercado, DDS, PC
February 05, 2014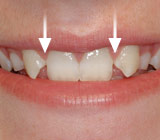 Normally, teeth erupt and grow in a symmetrical alignment: on the top palate, for example, the two central incisors take center stage; on either side are the lateral incisors, and then beside these the canines (cuspids).
But what happens when teeth don't grow in? The result can be a smile that just doesn't quite look right; more importantly, normal function is impaired because the person can't grasp and chew food correctly.
These missing teeth are the result of a congenital ("from birth") defect. It's estimated that almost a quarter of all people are missing one or more wisdom teeth, and more than 5% are missing one or more second premolars or upper lateral incisors.
In a normal arch (the upper or lower set of teeth), each tooth type performs a particular role during eating. A missing tooth causes the remaining teeth to compensate, but beyond their capacity. The remaining teeth also tend to move to fill in any gaps left by the missing teeth, as when the eye teeth move toward the central incisors in the absence of the lateral incisors. This puts them out of position, so they can't cover ("occlude") their counterparts on the other arch and grasp food properly.
To improve the smile and restore proper chewing function it's necessary to first move these "out of position" teeth to their correct position through orthodontics. We would then fill the gaps that result with life-like restorations (preferably dental implants with crowns) that resemble the type of tooth that should be there.
The restoration needs to be timed carefully, especially for young patients whose jaw structure has not fully developed. If implants are installed before the jaw's full maturity (usually late teens or early twenties), the implant crowns may not appear to be the right length as the jawbone continues to grow. Since bone growth depends on the normal pressures exerted by the teeth, there may also be insufficient bone mass in the gap area to support a dental implant. Growing bone with bone-grafting material may be necessary before installing implants.
The total process could take many months or even years, depending on age and other conditions. In the end, though, the results can be astounding — better function and a vibrant, new smile.
If you would like more information on developmental problems with teeth, please contact us or schedule an appointment for a consultation. You can also learn more about this topic by reading the Dear Doctor magazine article "When Permanent Teeth Don't Grow."